While the sudden and shocking close of BKLYN Yard left many canal-dwellers without their favorite outdoor hangout and waterfront party spot, it also meant that Sunday Best, hosts of one of the best Sunday afternoon dance parties in all of Brooklyn needed to find a new town.
Well everyone can tie up their dancing shoes again! Brooklyn 365 is happy to report that BKLYN Yard vets, Sunday Best, have found a new home in the courtyard of Brooklyn Fire Proof, in Bushwick.
The folks at SB hosted their first party at the new location yesterday, and it looks as if they picked up right where they with left off—maximum grooves, minimal  clothes and lots of sweaty high-fives (see video below 0:37)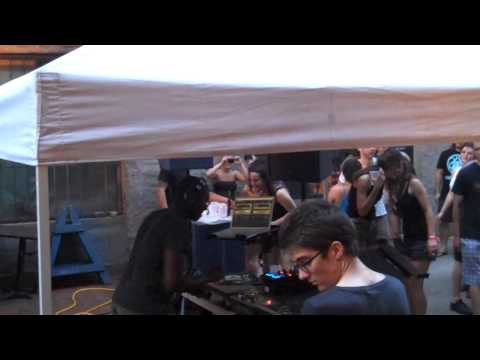 But Brooklyn Fire Proof offers more than just a dance party, though. SB-goers can dance in the open-air, lounge in the outdoor café area with cocktails and snacks available; however BFP also houses extensive studio and performance space and will play host to a number of Bushwick events, i.e Mr. Sat Night and The Bushwick Film Festival.
Sunday Best is held every Sunday (duh) from Memorial Day to Labor Day from 3 – 9 p.m. Tickets can be purchased in advanced and cost $8 with RSVP before 4 p.m. or $12 otherwise.
Brooklyn Fire Proof
119 Ingraham St, Bushwick